This is kind of a follow up to
my previous post on using Amazon CloudFront
.
This post is to cover conneg, or
Content Negotiation
.
TL;DR - use HTTP as designed and
follow the rules
.
Alice tries to access http://example.com/ on her iPhone. She gets back some HTML which references some images.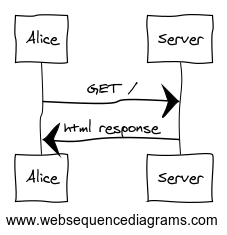 The markup returned to Alice contains references to 3 images. I'll just look at the first one.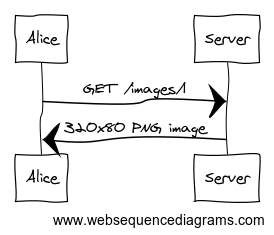 Alice's iPhone made a request for /images/1 and got back a 320x80px PNG image, since we have a clever server-side component which knows about different user-agents and tries to serve the most suitable version of an image for each client.
Along comes Bob. Bob is using a Google Nexus One. He similarly requests our home page and gets back a link to /images/1. When the Nexus One requests that resource though, it gets back a 420x120px PNG, again thanks to our fancy server-side detection.
What does this do to our
caching
? Well, it stuffs it up completely.
We're using a canonical URI for the image - /images/1.
We're serving different representations of the image from the same URL.
We cannot easily specify good HTTP expiration directives.
Going into point 3 in more detail, we cannot use the Vary header in our response to try to let proxy caches more efficiently. Vary can only specify a request header. This means that something like the User-Agent doesn't work:
There are many thousand User-Agent strings in existence.
How different are these 2 anyway?

Mozilla/5.0 (iPhone; U; CPU iPhone OS 3_0_1 like Mac OS X; en-us) AppleWebKit/528.18 (KHTML, like Gecko)
Mozilla/5.0 (iPhone; U; CPU iPhone OS 3_0_1 like Mac OS X; en-us) AppleWebKit/528.18 (KHTML, like Gecko) Mobile/7A400
Let's be conservative and say that there are 5000 different User-Agents hitting our site. That means that we could be telling proxy servers to cache 5000 copies of /images/1, rather than the perhaps 7 different sizes that our application might produce.
So alternatives to conneg?
Use a distinct URI for every bag of bytes that the application can serve. This means that your server-side markup generation needs to be a little smarter, so that you render markup containing /images/1/320x80 and /images/1/480x120 for example (see the point in my CloudFront post about not wanting to use query string parameters for this information).

It's still possible to support the old canonical URLs, either by continuing to perform conneg, or redirecting appropriately.

Rev your URIs so that you can happily set Far Future Expires directives on these resources; i.e. if the image changes, give it a new URI.
I'm still musing on what this means for progressive enhancement.
Andrea's post
looks like a step in the right direction though.